by guest author Jessica Majewski
If you've got plenty of experience or expertise in a particular field, writing a book can be a great way to showcase your knowledge, establish credibility, and ultimately, grow your revenue and business.
In this article, I'll walk you through the process of creating and publishing a book that showcases your expertise and attracts new clients and customers.
Why Should You Create A Book?
Publishing a book can be a powerful way to differentiate yourself from your competition and stand out in your industry, it gives you a sense of authority in your field. Similar in a way as marketers publish case studies of previous achievements.
And Forbes seems to agree, in this article they say writing a business book can help establish the author's credibility and authority in their field, while also increasing visibility and generating leads and sales. It can also help build their personal or business brand by leaving a lasting impression on readers.
Choosing Your Topic
Choosing the right topic for your book is crucial. You want to make sure that you're writing about something that is relevant and needed by your audience but also showcases your expertise.
To research and validate your book topic, you can use tools like Google Trends or Amazon's bestseller lists to see what topics are popular and trending in your industry. If it's popular, it means it's sought after and would hopefully do well as a product if you were to put your product "book" out for sale.
Another way is if you already have an audience of some sort, you can ask them to fill out a survey of what they feel they are struggling with the most, then write your book about that!
Planning and Writing Your Book
Once you've chosen your topic, it's time to start planning and writing your book. One of the most important things you can do is create a solid outline that maps out the structure of your book.
Don't just start writing without a plan, take some time to think about the start and the ending.
Put yourself in the customer's point of view. What is the final skill they want to learn?
Spend some time and write out all the steps/stages it would take to go from not knowing anything to being competent in that skill. Each of those stages would be a chapter and they should naturally build up each other until they learn everything you're teaching.
When it comes to writing, it's important to stay motivated and focused. To stay on target, try and set specific writing goals, like writing for a certain amount of time each day or completing a certain number of pages each week.
You can also use writing prompts or exercises to help overcome writer's block and get your creative juices flowing. The main thing is to be consistent and not try and be perfect. You can always go back and clean up/edit your writing later, the most important thing is to just get your thought written down and organize them better later.
Quick Overview
Break down your book into chapters or sections
Use subheadings to guide the reader
Include real-world examples or case studies to illustrate your points
Don't try and be perfect, just write
Considerations for E-Book Formats
In addition to print books, e-books have become a popular format for publishing books. When considering e-book formats, it's important to think about the reading experience and how your content will be displayed on different devices.
Some popular e-book formats include PDF, EPUB, and MOBI. PDFs are easy to create and maintain the formatting, but they may not be compatible with all devices.
EPUB and MOBI formats are specifically designed for e-books and can adjust the content to fit different screen sizes, but they may require a bit more technical knowledge when creating them.
Before deciding on an e-book format, consider your audience and how they prefer to consume content. If it's short, then a PDF could very well work, but something longer might benefit as a dedicated e-book. Ultimately that is a choice you would have to make.
A tip is to see what other people in your industry are doing (eg.. what format).
When you have a sample version, you may also want to test different formats to ensure that your e-book looks and reads as intended on different devices.
Editing and Publishing Your Book
Once you've finished writing your book, it's time to edit and polish your work. You can use online tools like Grammarly or Hemingway to help you catch any errors or inconsistencies, you'll be surprised at how many things slip through that go by unnoticed until something like Grammarly picks it up. You may also want to get a second opinion to give your book a final review.
When it comes to publishing your book, you have a few options. You can try to get a traditional publishing deal with a publishing house, or you can self-publish your book using platforms like Amazon's Kindle Direct Publishing. Each option has its pros and cons, so it's important to weigh your options carefully.
In terms of formatting and cover design, you can hire a professional designer or use online tools like Canva to create a cover that is eye-catching and reflects the content of your book.
Marketing and Selling Your Book
Once your book is published, it's time to start promoting it to your audience. You can create a book description and author bio that highlights your expertise and attracts potential readers. You can also build an email list and use social media to promote your book and engage with your audience.
If you already have traffic on your site, then an easy way is to create a landing page on your site and promote the book there. Below is a quick overview of how that works.
Creating a Landing Page (to Sell Your Book)
A landing page is an essential tool for promoting and selling your book online. Unlike a "presell page", a landing page designed to sell your book focuses on providing all the necessary information for readers to make a purchase decision, it does all the hard work in selling the book for you.
With a clear and concise design and informative content, your landing page can be a powerful tool for creating a steady stream of purchasing customers for your book.
Here are some tips for creating a landing page that will help you sell your book:
Simple Design
Keep the design simple and clean: Your landing page should be visually appealing and easy to navigate. Use a simple design with high-quality images and typography that is consistent with your book's branding.
Use Clear Images
Include a clear book title and cover image: Your book title and cover image should be prominently displayed at the top of the landing page. Make sure the cover image is high-quality and accurately represents your book.
Keep The Message Straight to The Point
Provide a concise book description: Your book description should be clear, concise, and informative. Focus on the key features, benefits, and unique selling points of your book. Make sure to address your target audience and how your book will solve their problems or meet their needs.
Social Proof
Include endorsements and reviews: Endorsements and reviews from beta readers, industry professionals, or influencers can help build credibility and generate interest in your book. Include quotes or excerpts from positive reviews on your landing page.
Use testimonials: Testimonials from satisfied readers can help build trust and encourage others to purchase your book. Consider adding testimonials or user-generated content to your landing page.
Create Urgency
Add a call-to-action: Your landing page should include a clear call-to-action that encourages readers to purchase your book. Use language that conveys urgency or scarcity, such as "Buy Now" or "Limited Time Offer."
Some Resources To Help Your Process
To help you along the way, here are a few resources that may be useful:
Conclusion
Writing a book can be a challenging but rewarding process, and it's an excellent way to showcase your expertise and grow your business.
By choosing the right topic, planning and writing your book, editing, and publishing it, and selling it effectively, you can establish yourself as a thought leader in your field and either generate an extra income or alternatively attract new clients or customers.
Remember, the key to success is to stay focused, motivated, and committed to the process. It will be difficult at first, but with hard work and dedication, you can create a book that people will love and find useful!
Featured image by Jonathan Francisca (Unsplash)
About Jessica Majewski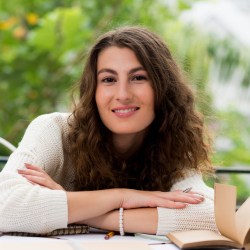 Jessica Majewski is the editor-in-chief at whenyouwrite.com. Her journey began as an avid book reader, but after reading one too many romance novels, she decided to jump to the other side and started writing her own stories.
With her passion for literature and storytelling, she quickly realized her true calling was in creating her own content
She shares her experiences in hopes of inspiring more up and coming wordsmiths to take the leap and share their own stories with the world. As a writer, publisher, and editor, she is dedicated to providing a platform for new and established voices in the literary world.